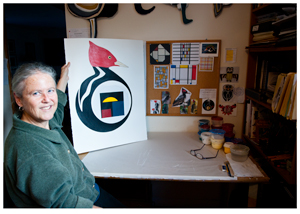 The Animal Relief Paintings are made of burlap and painted in earth tones. They are among a series of animals I have created from my walks. I am always searching for pathways in the urban and rural landscape where I may observe the unique diversity of animals and the land that surrounds them. The designs are inspired by a variety of ancient cultures around the world. The totem art of the Alaskan Haida and the pottery and Nazca lines of Peru, huge geometric designs and animal forms cut into the desert floor over a 1000 years ago. These contribute to my imagery.

The Animal Relief Paintings are my "small earthworks". I have also created larger scale earthwork sculpture in urban and rural landscapes utilizing indigenous materials to create a sculptural focus that echoes the land. While living in Oaxaca, Mexico, I observed how the indigenous people collected things to live on and defined their living space by outlining it with stone. Each day, women went off on their burros to collect firewood taking the same pathways up into the mountains. I decided to create lines, little borders, somewhat similar to the lines around their houses, to echo the landscape.

"Stone Crossing", my first large-scale earthwork, became a place where I could sit and observe the changes in nature over a period of time, connecting myself to the earth. When I create an Animal Relief, there is a process I go through while forming the animal. The sculptural surface becomes a land formation; the scale of which I imagine is immense. The contours are like a topographical map marking irregularities, gullies and great areas of color. Land and animal merge to form the essence of my observations, a work of art reflecting the beauty of nature.
Bird Paintings:
22"x 30"; acrylic paint; 2009- 11'

In my paintings I explore the union between my inner self and the birds that I observe. I feel the fragility and plight of a bird's life that is so vulnerable, so exquisitely beautiful. In nature I study their
profile, the shape of the head, the bill and markings. I become one with the bird, then I paint their portrait. The body encompasses the circle, at the center a luminous quality of color interplays with the form. The designs create a self-reflective movement. On some of the bird's backs I have painted their migratory routes. This very personal experience integrates a sad truth of a life interrupted. Through painting I create a new wholeness, a metamorphosis of form.