Ecological Sculpture: Earthworks
The earthworks are constructed of organic material indigenous to a site. As extensions of the landscape they may be viewed as earth drawings or sculpture depending upon the material used and the topography at a particular location. The structure and geometrical design of the earthwork is constructed upon contemplation of natural landmarks, in view of the historical and sociological particularities of the region. Common to all of the sites is the reintegration/recycling of decomposed material into art.
As an artist, I am interested in collaborating with architects and urban and regional planners on ecological systems of environmental reintegration. There are urban and rural devastated areas of land, where revitalization would provide the public with a focus. The sculptural work might be used as a model or foundation for further reintegration of a land area.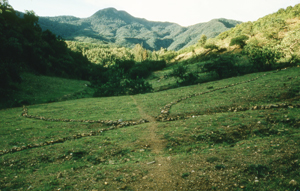 From the cliff the site looked most central in the valley. It starts just around a curve in the road. A path veers out from the curve down into an arrow-shaped field. Through scattered rock, grass, alongside a stream the path points in the direction of the mountains. A rut intersects the path halfway across the field. The stone wall extends out from that point.

"Stone Crossing", Oaxaca, Mexico, 1980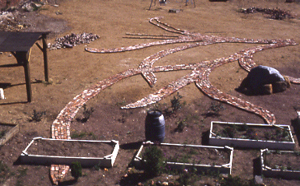 Linden-Bushwick Community Garden is an Operation Greenthumb, N.Y.C. Department of General Services based garden located in a once vacant lot in Bushwick, Brooklyn. I was sponsored by Artists in the Gardens, Operation Greenthumb to create "Tree Trunk Garden Path" based on the needs of the community and what may be utilized locally. We recycled brick from nearby demolition sites to create a network of pathways forming a tree trunk. The path, leading to and defining the growing and play areas of the garden, are highly visible from the elevated station of the corner subway stop.

Tree Trunk Garden Path Linden-Bushwick Community Garden Bushwick, N.Y.C., 1986